"
We brought you some vegetables from our garden. Enjoy!
"

–Zyhu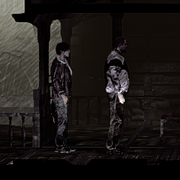 Overview
Upon his first visit to the player's home, Zyhu, and presumably his wife, will come to share some vegetables from their garden. If the player accepts their gift, they may return in a few days to ask for help in reinforcing their cellar against shelling.
First Visit
"Hello, Neighbor!"
"We live several blocks from here. We saw that you took refuge in this building, and since we're supposed to be neighbors, we decided to pay you a visit and say hello. We brought you some vegetables from our garden. Enjoy!"
Zyhu and his wife will give 5 Vegetables from their garden. They just want to pay a visit and say hello as neighbors.
Second Visit
"Will you help us reinforce our shelter?"
"Hello, it's us again. The military intensified shelling of our area and we decided we need to reinforce our improvised shelter in the cellar. We've got the necessary materials, but we could use an extra pair of hands. Maybe you could help us?"
Zyhu and his wife return to ask for help with reinforcing their shelter. If the player agrees, one survivor leave Our Shelter that night and will come back next day and bring back 1 Pure Alcohol. Most characters will be happier if player agreed to help them, except some special characters like Emilia.
Emilia, Roman, and Bruno are not satisfied when others help him.
Anton, Boris were glad through their thought, but now show content.
Arica and Katia will become content.
Third Visit
"Thank you for your help!"
"We've come to see how you're doing and to thank you for your help. It feels much safer to sleep in our own reinforced shelter. Especially since several houses in the neighborhood area were hit by artillery shells. We were saving this bottle for some special occasion, but we discussed it and decided to give it to you, instead."