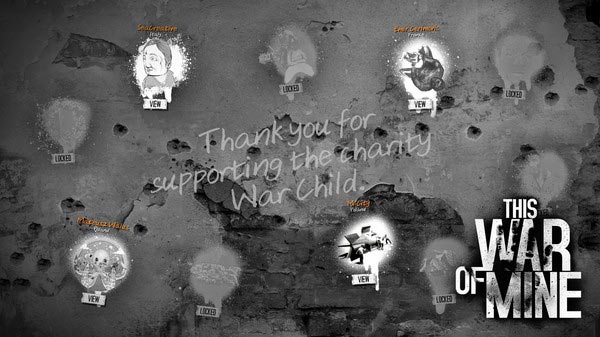 This DLC was released for a limited time only in Steam to raise funds for the War Child charity, who support children living in areas torn apart by conflict and war.
100% of the proceeds from the War Child Charity DLC was donated to War Child.

Platform(s): Steam
Price: $0.99, $9.99 or $19.99 USD
Available Until: 3 April 2015
Website: Steam Store

This DLC contains unique street art pieces that players can find in different areas within Pogoren, and collect to create a unique in-game gallery. The compositions represent reflections on the human condition and the state of humanity during a time of war, and were created by artists from all over the world including:
M-City
Gabriel "Specter" Reese
SeaCreative
Emir Cerimovic
Fauxreel
Mateusz Waluś
There are three tiers of content, with larger amounts of content for those that are willing to donate more to the cause.
Results
"
"Thank you and please don't give up on trying to make this world a better place."
"

On 3 April 2015 11 Bit Studios announced that the donations received for the War Child DLC had been enough to change the lived of over 350 children.[1]
Only 50 players (out of over 50,000) achieved the "Street Art" Achievement prior to 3 April 2015.
References