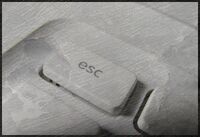 For those that play on Mac or PC via the App Store,  Galaxy of Games, or Steam, this is a list of known Keyboard Shortcuts and Mouse Controls. If you know of any that aren't listed, please add them below.
| | |
| --- | --- |
| Tab | Switch to next character. Focus screen on character at night. |
| Esc | Game Menu (also pauses) |
| U | Hide UI |
| Space | Pause Game (no menu popup) |
| | |
| --- | --- |
| Left Click | Primary in-game control. Character movement and selection tool. |
| Double Click | Makes characters run to target/item/location. (loud) |
| Right Click | Same as double click. Also allows for quicker item stack transfers/selling/buying. |
| Middle Click | Functions the same as Left Click. Double clicking functions the same as Double Click. |
| Mouse Wheel | Move the wheel up or down to zoom in and out. Scrolls inventory/containers. |
Ad blocker interference detected!
Wikia is a free-to-use site that makes money from advertising. We have a modified experience for viewers using ad blockers

Wikia is not accessible if you've made further modifications. Remove the custom ad blocker rule(s) and the page will load as expected.